Releasing a new book is always a highlight in a writer's life, but the truth is not that much happens for the author on release day. Other than a handful of social media posts, books quietly slip into bookstores without much fanfare unless the author has a book launch party.
As this is my eighth book, I've had launch parties before, but they aren't my favorite thing to do. Why? Because as a writer I spend most of my days home alone with little more than the radio and my dog to interact with. There's no audience of people waiting expectantly for me to say something brilliant, but my publisher for Waking in Time encouraged me to have a launch party, so I found myself nervously adding it to my calendar.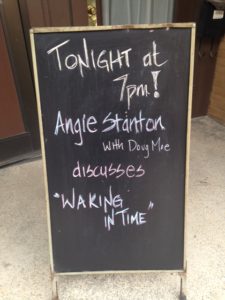 My publisher found a great indie bookstore for the event. Mystery to Me is an adorable bookstore in a quaint part of downtown Madison. The owner is friendly and inviting and made me feel special from our very first email. What was even better, she said she'd bring in a local journalist, Doug Moe, to interview me. Whew! Huge pressure off of me.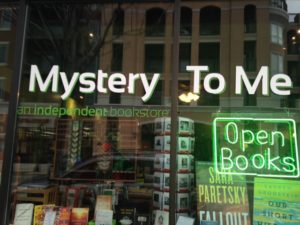 Now I could shift my thinking to what cookies to bake, orange dreamsicle, and what to wear. I choose a long sweater in muted pastels with black leggings and ankle boots.
The night arrives and people come out in droves to help celebrate, which stuns me and warms my heart as they crowd into the bookstore. I'm seated on a stool at a high-boy table along with Mr. Moe. He does an amazing job of directing the conversation and asking me interesting questions as I gaze out over a packed room. Things are going well until about halfway through the talk. I realize my leggings have pulled out of my ankle boots and are likely revealing my socks.
You see, initially I had put on black socks, which would have gone unnoticed, but at the last minute in honor of it being my UK release date, I thought I'd give a silent nod to my readers "over the pond."
So I changed into a pair of red, plaid Jack Wills' socks that I bought when visiting London two years ago. These would definitely look out of place with my pastel sweater, but I never thought anyone would see them.
I spent the rest of the talk trying to push my pant leg down and flex my foot so less red plaid would show. I even tried to hide my ankle under the tablecloth without slipping off my stool, but that didn't work either. I kept fretting that everyone was staring at my odd choice of hosiery and realizing I truly have no fashion sense, or didn't bother to do laundry. Both are true.
So, as I was discussing the book my heart and trying to come off as intelligent and entertaining, I was really just focused on my socks.