I love summer camp. I only went once as a kid, but my husband grew up going to a family camp. Once we had kids we started going and it's a carefree week of sun and fun.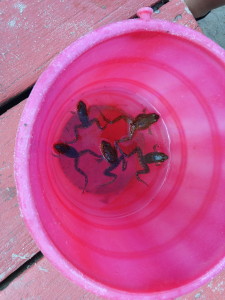 Each family gets their own cabin on the lake. There is a main lodge where all our meals are served, a waterfront with beach chairs and boats, a craft room for camp projects and a naturalist. Each night features a different activity from night swims, a camp prom, or talent show.
This is the place I used as the inspiration for the camp Marti and Adam attend in my book Snapshot. Every time I come to camp, I find myself thinking of Marti and Adam stuck in the bog with their overturned canoe.
As I write this, I'm sitting on the dock with loons calling out to each other. Little kids are catching frogs and the teenagers are playing volleyball. This year at camp I decided to make a tie dye shirt. It's been many years, so I was really excited. I think I kind of drove the craft girl, Carly, crazy with all my questions. And in case you're wondering how it works, here's the process step by step.
1. Swirl your shirt from the center and wrap it tightly with rubber bands.
2. Soak the shirt overnight in a bucket of soda ash water. (I have no idea what that is!)
3. Squirt different colors of dye on the shirt until it's drenched with color. Be sure to get dye in all the creases.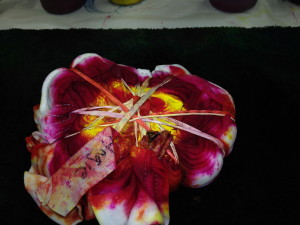 4. Put the dyed shirt in a bag and let sit for a day or two.
5. Unrubber band your masterpiece and rinse in cold water until it runs clean. Then do the same in warm soapy water, then back to cold, and hang to dry.
Viola!