I grew up out in the country with two older brothers and no sisters. My brothers were older and had each other, their mini bikes, and later cars to keep themselves entertained. I had my imagination.
But I also had city cousins! There were six kids and four were girls. My cousin Denise and I are less than a month apart in age, so we bonded. I was hungry for friendship, and I think she was hungry to  have some individuality, being from such a large family. Plus, she is incredibly funny and a ton of fun. One of my favorite memories is of Denise and I sitting in my brother Pat's soupped-up car and listening to Simon and Garfunkel. We cranked his power speakers and screamed along to "I am a rock." Later my brother got mad that we drained his car battery, but it was worth it.
A couple weeks ago, Denise invited all her sisters, her mom, and a couple of friends for a girls weekend at an awesome resort in North Carolina.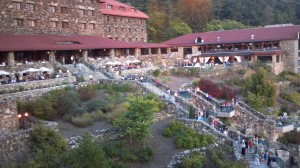 I don't think Denise has any idea how much this invitation meant to me. It was an amazing fun-filled weekend! Aside from all the great meals together, a day at the spa, and sitting around the pool in the warm autumn sun, I found myself a voyeur on the dynamics of sisterhood. All four sisters were there. They joked and teased and lovingly swore at each other. All four are very different from each other, yet share a sisterly bond that I found myself envious of, yet honored to get a close peek at.
I used to say my mom was the closest thing I had to a sister, but she passed away five years ago. My brother Pat died suddenly shortly after that. I find myself feeling almost like an orphan sometimes. That weekend getaway with all that family and all those sisters, brought so much love and joy to my heart.
So to all of you with sisters, embrace the glory of having someone who will always be there for you through good and bad. You can't divorce a sister. And to those of you like me, who don't have sisters, cherish your girlfriends and never let them go.